"Flow n' Fly"
Yoga & Trapeze Workshop!

Saturday, September 10th, 2022
8:00-10:30am
in partnership with iFly Trapeze
YOU know how to Flow, but do you know how to fly? And what better way to get ready for flying, then by calming your mind and body. Center your Qi, get a good stretch, and reach for the sky. It's time to fly.

THE workshop begins with a warm up and flow lead by 26 year yoga veteran Michelle Cavanagh of Here & Now Yoga. With her broad experience in dance, martial arts, and fitness, you're clearly in capable hands.

NOW that you're warm, it's time to fly. And there's no team more qualified to guide you through your first experience like the I.FLY Trapeze crew. Not your first time? No problem. We'll pick up where you left off or just tell us what you want to learn.

ADULTS $125 (Flow n' Fly family style. Bring the kids $75)

I.FLY Trapeze @ Eisenhower Park
Merrick Ave, East Meadow, NY 11554
(Rain date: 9/17)
Reserve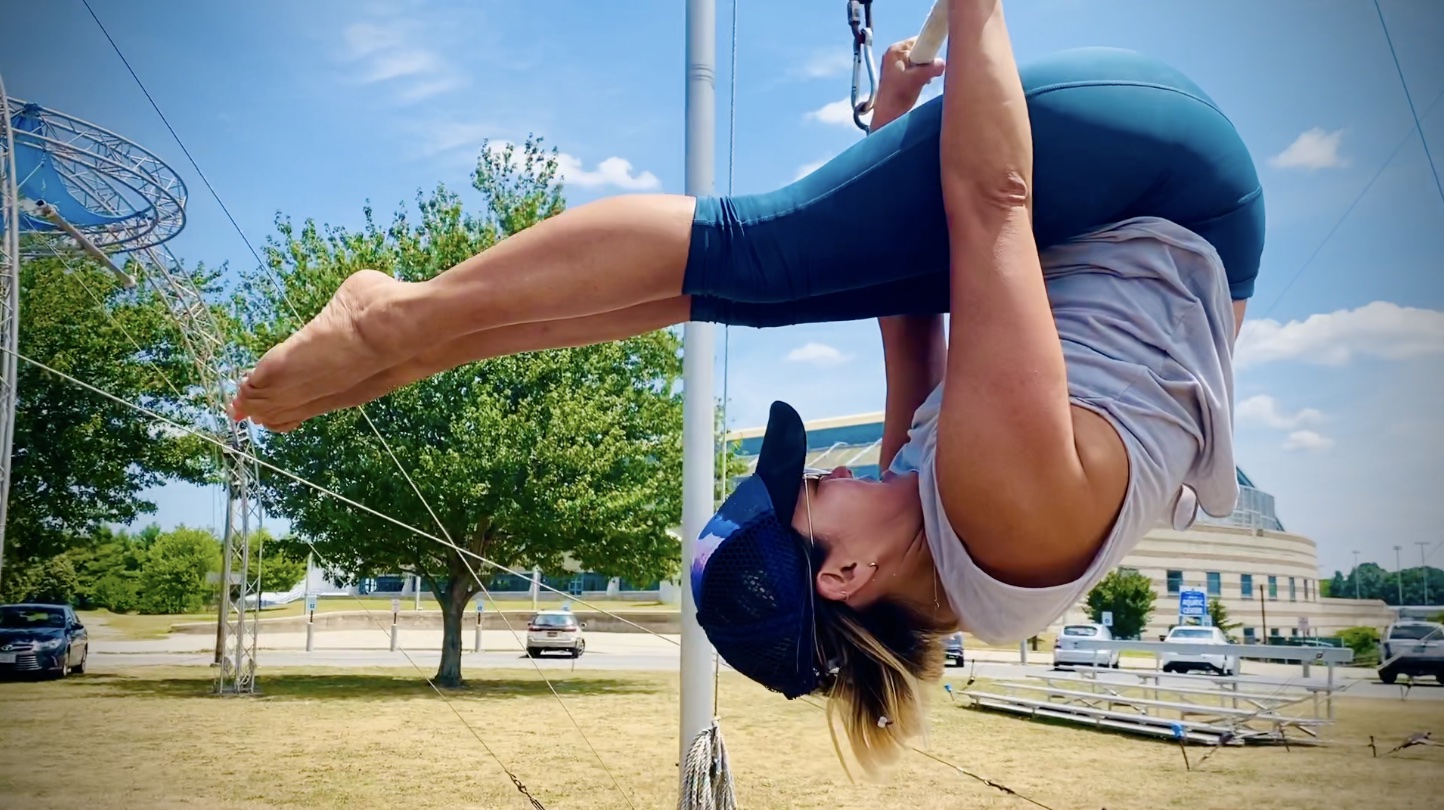 "Flow n' Fly" Yoga & Trapeze Workshop!
"In Defense"
a 2-hr Self-Defense and Empowerment Workshop Centering API Women and Tween/Teen Girls (queer-inclusive)*

Saturday, October 22, 2022
4-6pm
*This special workshop will NOT be open to the public.
Please contact Michelle if interested (310) 213-7553.
Location (indoors): Bellerose Village, NY 11001, on the Queens / Nassau County border.
Exact location to be sent once registered.

Instructor:
Jess Ng, international Muay Thai fighter / self-defense instructor (as featured here on NPR.org)
Born and raised in Queens, New York, Jess Ng is a first generation Chinese-Hong Kong-American designer, small business owner, and defiant disruptor of status quos.
The seasoned Muay Thai fighter won a gold medal at the 2017 Pan American games, a bronze in the Buenos Aires 2020 Pan Am games, and has also fought in Thailand and Malaysia. Her indomitable fighting spirit can be seen in the work she does with AAPI organizations and self-defense seminars she leads throughout New York City. Jess continues to inspire social consciousness and impact when she's not dominating games of mahjong or working on her fluency in Toisan, her grandmother's dialect.
Corporate Workshops / Events (outdoors or online)
~ Yoga Lunchtime for employees, Workshops, Events,
~ Yoga & Wine Social Hour

Create Your Own: Birthdays, Bridal Showers, Girls' Weekends
Have a group of friends and want to create your own semi-private yoga class? Let's chat and come up with the best ideas to suit your group's needs. Outdoors or online sessions available.
Inclusive Yoga
with Mary Quinn's Mark Foundation
(Dates TBD)
Visit: mqmfoundation.org/register

PREVIOUS WORKSHOPS:
2022:
Sat, Apr 30:
9:00-10:30am ~ online Flow & Alexander Technique: 45 min yoga w/ Michelle & 45 min – Move with ease with Alexander Technique, guiding you to recognize and increase awareness of your own movement patterns and habits, w/ guest instructor Jane Apostol. (This is a preview offering of the classes at our 2022 Summer Yoga & Wellness Catskills Retreat.)

Sat, Apr 9, 2022:
9:00-10:30am ~ online Flow & Coach: 40 min yoga w/ Michelle & 50 min class-basics of self coaching w/ guest instructor Sommer Chetty, Coach Me Sommer
2021:
March 28, 2021: Mindfulness – The Art of Slowing Down w/ guest instructor: Micheline DeBono (IG: @micheline_yoga)
Focus on being fully present, getting grounded through awareness, scanning the body, breathing techniques, gentle stretching and a nice long savasana with yoga nidra. Reset, center and melt.
Sun, Apr 11, 2021: Balance & Grounding w/ guest instructor: Heesun Kim Y2Kxtraining.com (IG: @Y2Kxtraining)
Let's take an hour this Sunday to help center our body & mind using asanas focused on the root chakra, Muladhara.
Sun, May 2nd, 2021: Chakra Flow Yoga w/ guest instructor: Jamie Lyn Skolnick
(FB: jamielyn.skolnick)
Join Jamie as she guides you through a vinyasa flow class that helps to balance all seven chakras. The chakras are an energy system of yoga that focuses on seven wheels of energy along the spine for physical, mental and emotional health. You will learn about poses, breathing exercises, mudras, mantras and lifestyle practices for each chakra from the root to the crown of the head. Please bring a yoga mat, a block and a journal. All levels welcome.
Sun, May 23rd, 2021: "Flow & Tell" w/ Michelle Cavanagh & guest Alexis Kahoud, Clinical Social Work/Therapist, LCSW
Two-part class: 1) 30 min: Open level flow, we encourage you to bring awareness to any mental, physical or emotional states that you experience during class. 2) 30 min we will discuss these experiences in a supportive and non-judgmental environment. This class is aimed at deepening the understanding of the mind-body connection at the heart of yoga.